What is Tun Razak Exchange ?
Tun Razak Exchange or shortform TRX is a project development by 1MDB as part of ETP(Economic transformation plan) with purpose to set Kuala Lumpur as an international financial hub in the world.  Although Malaysian GDP has been growing rapidly at 7% annually, the country is still lack of a proper financial district. This project was tabled by Malaysia's current prime minister Datuk Seri Najib Tun Razak during the 2010 budget as part of 10th Malaysia plan. Datuk Seri Najip Tun Razak has also setup a special task force in directly assisting TRX's operation and investment.
The overall cost for the project totalled 8 billion US dollars while it encompasses 70 acres of land in the middle of Kuala Lumpur.  Tun Razak Exchange will be equipped with high end office buildings, state of the art hospital, hotels, world class transportations, commercial properties, shopping centre and high end residential area. TRX will also be seen as an extension to the currently overcrowded Bukit Bintang and KLCC areas.
Project Details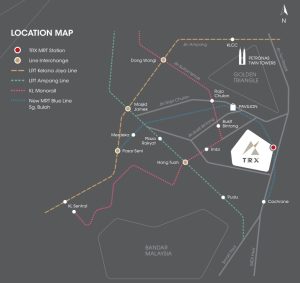 Location
Set very near to golden triangle of Kuala lumpur, Tun Razak Exchange can easily be accessed via main roads in Kuala Lumpur such as Mex Highway, Jalan Sultan Ismail, MRR2, Jalan Tun Razak and SMART tunnel and also a direct route to KLIA (Kuala Lumpur International Airport). Tun Razak Exchange will also be connected with the ongoing MRT project and various other public transportation such as LRT and Monorail. The TRX MRT Station is planned to be built as one of the largest MRT station in Malaysia.
Plans
TRX is a 17 years plan with phase 1 set to be completed by 2017.  There will be a  total of 25 buildings which may includes hotels, residential area, shopping center and F&B outlets.  Upon completion of the project, TRX is set to draw talents and investment while creating 3 million jobs.
Infrastructure
TRX will be equipped with the state of the art infrastructure that cost 2 billion.