Tun Razak Exchange Completion Date
Tun Razak Exchange of previously known as KLIF (Kuala Lumpur International Financial district)  is a 26 billion development that was launched on 2012 as as effort to put Kuala Lumpur into the international financial map. The total development tenure of the project is set at 15 years with several phases. At the time of writing, development of this project has started.
2012
Prime minister Datuk Seri Najib Tun Razak Launched KLIF project which was later renamed to TRX.  Land ground clearing process for TRX development has started. The first physical construction is expected to start on 2013.
2013
Aabar Investments PJSC and Abu Dhabi investment arm will be investing significantly on Malaysia's Tun Razak Exchange development.  WCT won the multi evaluation stage tender for ground clearing and ground works which is valued at RM 169 million. Earth works, basement and civil works has started. China's Exim bank became a partner investor for TRX project.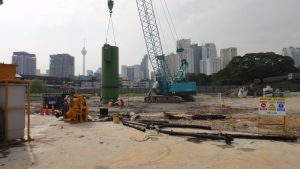 2015
Construction works is expected to commence on early 2015.
Phase One (2017)
The first phase of TRX project is set to be completed on 2017 that is in line with Malaysia's plan to achieve high capital income nation and developed nation status on 2020. Development of first phase will includes two five star hotels,  five residential towers, four office blocks and one retail mall
Around RM 3.5 billion foreign direct investment is projected with investment from 100 different companies and 500,000 employment opportunities to be created with phase one launch. The first phase completion will also coincides with opening of TRX MRT station on 2017.
2027
Projected final completion of TRX project.